A HappyUrns Competition
Reinterpreting The Urn :
A Symbol of Celebration
Foreword
The HappyUrns initiative is a series of projects designed to encourage people to engage with the topic of mortality with loved ones in a meaningful way. Throughout this journey, the HappyUrns team developed the Resident's Urns project, the Celebration Kit and the Life in a Year Book. The process of designing these projects helped us become deeply aware that people feel and interact differently with the topic of mortality in ways that are influenced by a variety of factors including religion, family tradition, personality and more. We want to understand how different people would tackle the same opportunity as we did and hence launched the HappyUrns design competition to invite students and the general public to submit their own interpretations of a symbol of celebration.
The HappyUrns team collaborated with an esteemed jury panel that included Dr. Kristin L. Wood, senior associate dean for Innovation  and Engagement at University of Colorado (Denver) and director of DesignInnovation, SUTD; Dir. Daniel Griner, Director of Design, Innovation and Strategy at University of Colorado (Denver); Dr. Dan Jensen, Founding professor of the Westmont College Engineering Program and Scholar in Residence at the University of Colorado (Denver); Mr. Andrew Pang, founder of Lavaworks and Live.Love.Life, and member of the Presidential Advisory Commission, Design Business Chamber; Ms. Agnes Kwek, founder and CEO of MindTheSystem and editorial board member of the Women's Forum for the Economy and Society; Professor. Tai Lee Siang, head of the Architecture and Sustainable Design pillar at SUTD and director of DesignZ, SUTD.
A special thank you to our jury representatives of our partners, Lien Foundation and Ang Chin Moh Foundation, Mr. Lee Poh Wah, CEO of Lien Foundation; and Mr. Ang Zi Qian, founder of Ang Chin Moh Foundation.
HappyUrns and the jury team thank each and every submitter who submitted their brilliant ideas to this design competition. Please scroll on to view the winning entries. All winners will be contacted within 3 working days of the announcement.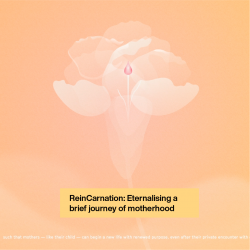 Jury comments: ReinCarnation takes on a unique approach in addressing a complicated grief, one of experiencing miscarriage or stillbirth. This topic is not often talked about and would target a niche audience rather than a wider audience. However, the Jury believes that proposed idea including the use of breastmilk as a form of remembrance and act of giving amidst grief might be able to resonate with the target group significantly, creating deep impact. While the idea focuses on the mother, it can become a powerful tool to foster conversations between mothers and even women without children. The Jury suggests that the idea can involve fathers in the process too as this type of sense of loss and grief is often shared and better overcome with a loved one. 
Jury comments: Sanctum is a sleek and elegant re-imagination of the traditional urn. It is a beautiful execution of a design concept that is largely similar to the urn but is able to evoke one's memories of loved ones through the stimulation of sight and hearing. The repetitive process of burning of candle and movement of the steel ball to create a sound at intervals creates a ritualistic and calm environment for the bereaved to mourn and process their deep and even confusing emotions. The reinterpreted urn is beautifully and thoughtfully designed. 
Jury comments: Die Die must Sing is an interesting entry as it is both an expression of life and remembrance upon death. Songs stay in our memories for a very long time and using them to mark the memories of a loved one provides a meaningful, enjoyable and interactive way to exchange fond remembrances with friends and family or to reflect on moments individually. The proposed application also allows users to create custom playlists and music videos which offers a degree of personalization to the way someone would like to be remembered. 
Jury comments: Write of Passage is a clever design concept that can create interesting memories with your loved ones. Users bond over the shared craft of paper home kit through a DIY kit. This kit engages the users personally empowering them to create something with their own hands and together with their loved ones. This experience establishes itself as a core memory before the loved one passes on. The process of writing and burying is largely symbolic as well, choosing to write either positive memories or negative feelings after passing, is the only way to move on and live their lives without any burden weighing them down.  
Jury comments: Trinity Biodegradable Foldable Urn is very well thought out in design details and execution. The experience of having immediate and extended family prepare the piece during the funeral is in itself a ritual for comfort and release is very well laid out and communicated in the design proposal. 
Jury comments: Memories x Glass's proposal to use ashes to create beautiful stained glass is refreshing and novel. It's ability to encourage remembrance and interaction with loved ones, and even in some cases, the wider community, is impactful. The only drawback is that the process of creating stained glass and even more so, with cremains, would be very difficult. The jury believes that idea can be further developed to include an execution plan that enables the idea to impact the average person.
Jury comments: Soul Lives Forever's design can encourage both intentional and sporadic moments of remembrance and reflection from its potted plant function – which encourages the user to actively interact with the reinterpreted urn – and its naturally occurring chime (caused by air movement) – which allows spontaneous moments of reflection and awareness. The idea that it brings back the sense of movement to a loved one who has passed on is deeply touching and unique. The presentation of the submission is also very well done and detailed.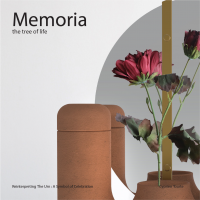 Jury comments: Memoria is a beautifully design urn that acts as a device for a ritual of remembrance as well as a pleasing feature to have in the home as a reminder of a loved one who has passed on. The use of a mirror for conscious reflection, as well as the act of using ashes and water to contribute to the growth of a new life (potted plant) is a beautiful concept that would be a therapeutic process for the bereaved. The jury wonders if ashes would be a good fertilizer for the plant and would suggest to include some consideration in that area. 
PROF. TAI LEE SIANG
Head of Pillar, Architecture & Sustainable Design, Singapore University of Technology & Design
MS. AGNES KWEK
Founder & CEO of MindTheSystem; Editorial Board Member of the Women's Forum for the Economy & Society
MR. ANDREW PANG
Member of the Presidential Advisory Commission, Design Business Chamber Singapore; Founder of Lavaworks & Live.Love.Life
MR. LEE POH WAH
Commissioning Party
Lien Foundation Representative
MR. ANG ZI QIAN
Commissioning Party
Ang Chin Moh Foundation Representative
DR. KRISTIN L. WOOD
Senior Associate Dean for Innovation and Engagement, College of Engineering, Design & Computing, University of
Colorado Denver
DR. ARIANNE COLLOPY
Expert in Design Science; Postdoctoral Fellow and Design Lead at University of Colorado
Denver
DIR. DAN GRINER
Director of Design, Innovation & Strategy at University of Colorado
Denver
A big thank you to all esteem jury members for the time and dedication to the HappyUrns initiative.